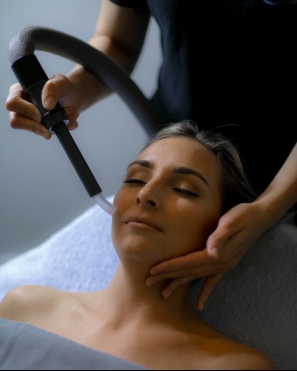 Cryogenic facials: the "coolest" trend in anti-aging
Age is inevitable but aging is not… Cryotherapy is the next generation in beauty and anti-aging treatments. Cryotherapy is the use of extremely low temperatures to treat symptoms such as tissue damage, decrease inflammation, increase cell rejuvenation, improve skin tone, and reduce signs of aging.
With all the amazing benefits achieved through whole body cryotherapy, i.e. Significant reduction in pain and inflammation, calorie burning (500-800 cal. per session) and relief from stress and anxiety through a massive release of endorphins leaving you with a tremendous sense of well-being, another noticeable benefit is the remarkable effect it has on one's skin. Clients that include whole body cryotherapy into their weekly regimen notice an improvement in overall skin quality as well as a reduction in acne and in many cases significant relief from eczema and psoriasis.
MEND Health & Wellness has harnessed the powerful effects of cryotherapy on the skin and developed several different cryogenic facials, taking these amazing benefits to a whole other level! The appearance of the face is enhanced immediately as pores shrink and facial inflammation and "puffiness" are reduced. Dark spots are brightened, leaving a youthful, healthy glow. The skin becomes tighter, more even toned and blood circulation is improved. Over time the skin of the face regains elasticity due to the increase in collagen.
If you are interested in the latest in anti-aging and beauty treatments or just want to treat yourself to a unique and relaxing experience, MEND Health & Wellness is your one stop shop for health & wellness, anti-aging and beauty all set in a beautiful spa-like setting unlike any other. Offering whole body cryotherapy, local cryotherapy, compression therapy, infrared sauna, aromatherapy oxygen bar, and cryogenic facials using only locally sourced plant based organic products, MEND should definitely be on your to do list.
About MEND Health & Wellness:
MEND Health & Wellness is Valencia's premier whole body cryotherapy center. The goal of MEND is to improve the quality of life of every customer who walks through the doors. You'll be treated to a VIP experience in a spa-like setting that is comfortable and relaxing. MEND also provides compression therapy, cryo facials, local cryotherapy, infrared sauna and an aromatherapy oxygen bar.
Discover all the benefits of cryotherapy! Contact MEND Health & Wellness and try it for yourself! Call 844.321.6363 to find out more today. Walk-ins welcome!